Girl copies TV character to score marks
Author:China daily
Source:China daily
Release on :2015-01-11
Groom, bride attend wedding on cycle, heartbroken man jumps from bridge, student goes back to time for final exam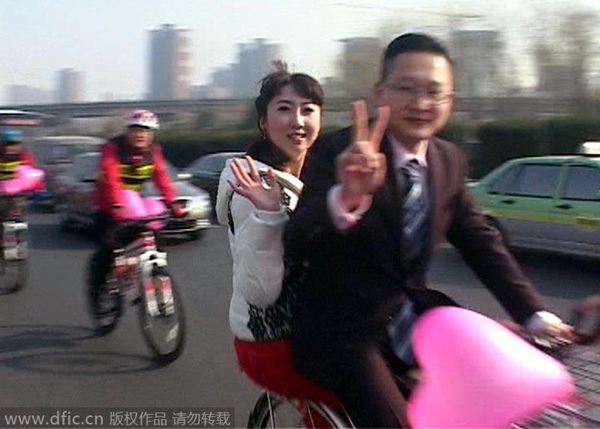 Groom, surnamed Wu, takes his bride on a bicycle to the site of the wedding ceremony in Nanjing, East China's Jiangsu province, on Saturday. [Photo/IC]
Groom takes his bride on bicycle
How to make a wedding romantic and eco-friendly? A convoy of bicycles will do it.
A groom, surnamed Wu, took his bride on a bike to the site of the wedding ceremony with 20 fellow cyclists following the couple on the streets of Nanjing, East China's Jiangsu province, on Saturday, attracting many onlookers to watch and take photos.
The groom, a bicycle enthusiast, said it's an eco-friendly way, while the bride found it special and economical.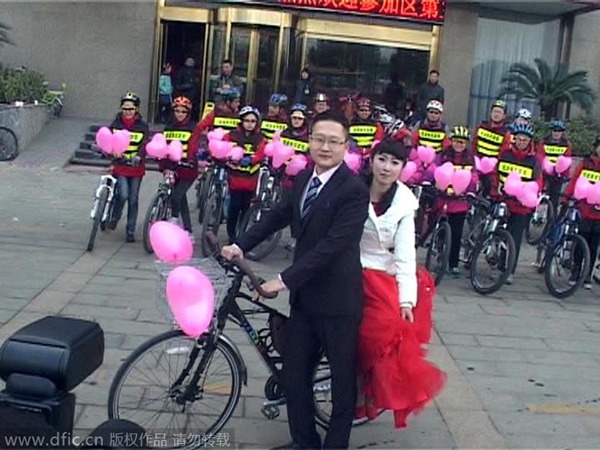 The couple and the wedding convoy of cyclists in Nanjing, East China's Jiangsu province, on Saturday. [Photo/IC]