Trending special: Crazy Santa Clauses in China
Source:chinadaily.com.cn
Release on :2014-12-25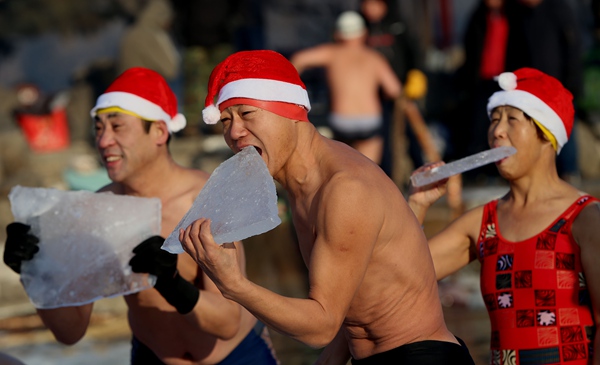 Members of a winter swimming association, dressed up as Santa Claus, pretend to eat pieces of ice while swimming in cold water to celebrate the upcoming Christmas, in Shenyang, Northeast China's Liaoning province on Dec 22, 2014. [Photo by Tian Weitao/Asianewsphoto]
Santa Clauses in swimsuits welcome Christmas
Forget about the traditional Santa Claus who wears a warm Christmas suit. These Chinese Santa Claus swimmers show off their toned bodies in swimsuits.
More than 30 members of the Shenyang winter swimming association, dressed in Santa Claus swimsuits, swam in cold water or danced on an icy lake to celebrate the upcoming Christmas, in Shenyang, Northeast China's Liaoning province on Dec 22, 2014.
How about skiing with a group of Santa Clausettes in underwear?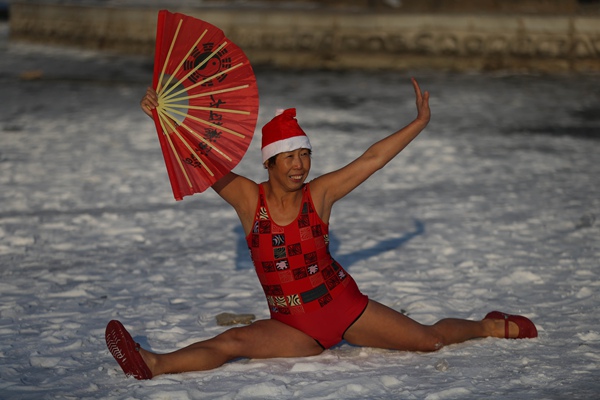 A female member of a winter swimming association, dressed up as Santa Claus, dances with a Taiji fan on an icy lake to celebrate the upcoming Christmas, in Shenyang, Northeast China's Liaoning province on Dec 22, 2014. [Photo by Tian Weitao/Asianewsphoto]